Fancy Food show opening day
by Patti Regehr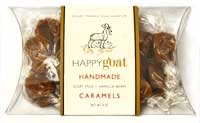 Caramels made from goat's milk
Sunday was the first day of 2010 Fancy Food Show.  What did I like?  I was impressed by Happy Goat which makes caramel out of goats milk and goat butter.  The caramel had a tang that goat's milk added to the flavor.  If you want to make this yourself, check out Martha Stewart's recipe for Goat Milk Caramel with Spirits.  I also liked the booth that showcased their truffles on popcorn.
Another taste sensation cane from California Caviar. The pressed caviar had the taste of caviar but not the texture –the best of both worlds.  California Caviar also had what they called  Bacon and Eggs. This caviar was infused with bacon — very tasty.
Some of my favorite tea companies weren't  here this year and others had smaller booths. I will check on Monday to see if there are more vendors or if the economy has made companies just opt for smaller space.I love salads and especially liked samples from Summer Fresh, a Canadian company that makes and ships pre-packed salads, dips and snacks. Having said that, I still prefer to make my own salads or buy them locally.